Thanks so much to Jess for taking part in this Q&A and offering up such useful insights. Jess also deserves double thanks because she's the behind-the-scenes star who's volunteered her time to helping me deal with the poetry prize submissions, so that I can catch up with other things, like publishing posts and sending off parcels of books. Thanks again Jess, you're a real star. (Below photo courtesy Jess Thomas.)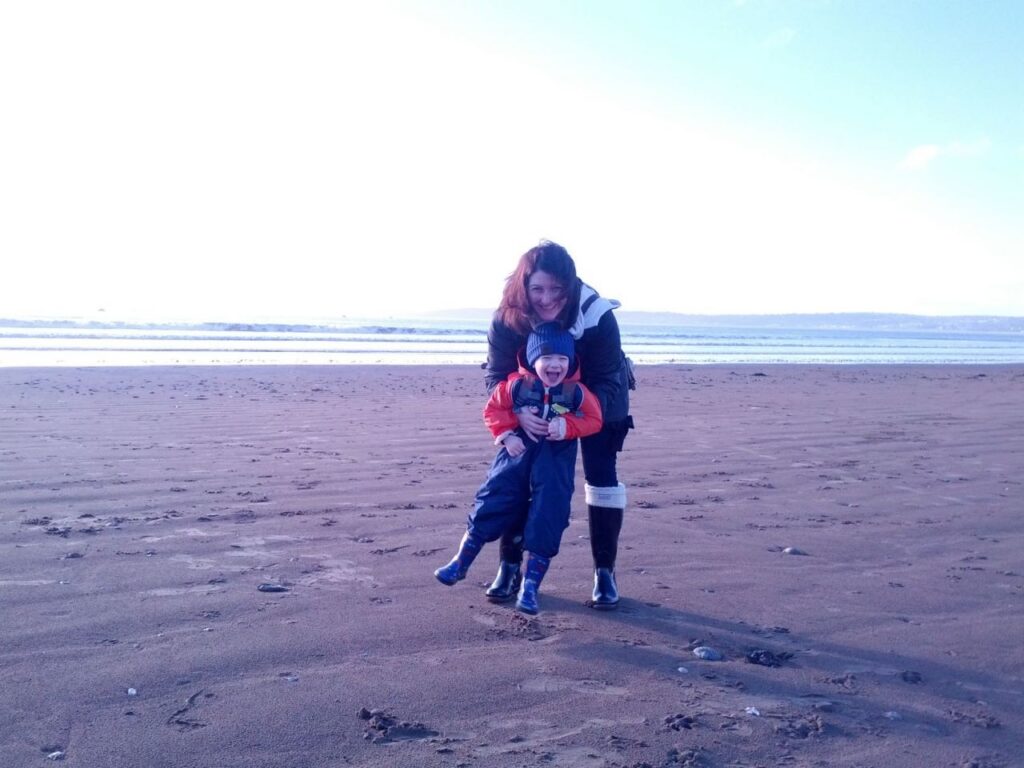 1. Can you tell us a bit about yourself?
I live in beautiful Gower, South Wales, with my husband, two sons, two dogs, a grumpy cat, and a multitude of tropical fish. Before having children, I was a Special Needs teacher, and specialised in working with Secondary School pupils who had ASD. I'm now a stay-at-home mum, writer, researcher and crafter.
2. How, when and why did you first start writing?
I've always journalled and as a child I would write lengthy poems and stories, but then I was told poetry shouldn't rhyme, and my brother said my books were *poop*. It took a while to rediscover my love of creating and to silence the fear. After having my first son I found a bravery and strength I'd never known and rejection felt survivable. I then started to pour out stories to try and make sense of the world and all the new emotions that came with parenting.
3. How often do you write?
I journal every day and write a little every week, but I am constantly 'writing' when I'm walking the dogs, cooking tea, doing the ironing; my stories are taking shape in my mind and my subconscious is doing the work. My favourite time for ideas is just when I'm dropping off to sleep – I am sure the best are the ones I fail to remember!
4. What made you decide to enter the Mother's Milk Books Writing Prize?
I've followed the press since reading about it in Mslexia some years ago. I love the Forgotten and Fantastical anthologies and have submitted in the past. Myth and storytelling are something I'm really interested in, especially retellings. I wrote two pieces for the non-fiction section of the competition and, after many re-workings to get to the heart of what I wanted to say, one piece became a fiction entry.
5. How did it feel when you'd heard that you'd won?
There's a quote about how having children is to let your heart wander free of your body all day. I felt that about this piece, a bit of me exposed for all to see. We were out as a family when the email arrived, and after reading it over and over, I screeched, jumped around and was promptly told by my youngest to calm down. It is the first competition I have won and I'm still beyond delighted. After the initial glee I convinced myself it was a mistake! It took a while to believe it wasn't.
6. Can you tell us a little about your winning piece of writing?
If you're struggling to think of what to write, then write about something which scares you – sound advice that I took to the extreme. I originally wrote the piece as a non-fiction entry, a first-person account of my own fears, but it felt whiney and insular. I played around with it, re-worked it and tried different perspectives and the more separate I became the more I realized that fear isn't an emotion felt by me alone, rather it is a feeling that encompasses all parents from the very first decision to try for a baby. Working on this piece has taught me a lot about my writing, especially to be open-minded and flexible, rather than labouring the initial idea.
7. What are your writing plans for 2019?
The same as it has been for the last couple of years – to continue writing and researching my novel of historical fiction. It is an exploration of how the myths of Gower were formed to shape the behaviour of the villagers. I'm enamoured with Celtic mythology and easily led down new paths of research. This leads me off on a tangent of writing short stories and re-working folk tales before I yank myself back to the novel. It may not be the quickest route, but it is the most enjoyable. I would also love to find a writing group that is purely for life writing as a form of therapy, it is becoming more prevalent but I'm still looking – I may need to be brave and create my own.
8. Any tips for writers?
Perseverance and resilience. Some people are born writers, while for others it takes work and practice, rejection and criticism. My sons are taught Growth Mindset in school and encouraged to make mistakes to grow their brains. I wish I had been taught that when I was younger, but now it's my children who teach me that failure can be good. That's why I strive to set a good example and, no matter what I do, I use their mantra 'at least I tried'. This time it really paid off and I couldn't be more proud to be chosen by a press with such a unique and fantastic remit. You can read Jess's engrossing winning story, 'In Fear's Eyes' here. And if you feel inspired to take part in this year's Poetry Prize (and I'd really love it if you would!) please read the full guidelines here.