Huge thanks to Laura for taking the time to take part in this Q&A – I'm absolutely delighted to have such a talented young poet share her insights here. I hope it inspires poets of all ages to enter our competition! (Below image courtesy Laura Potts.)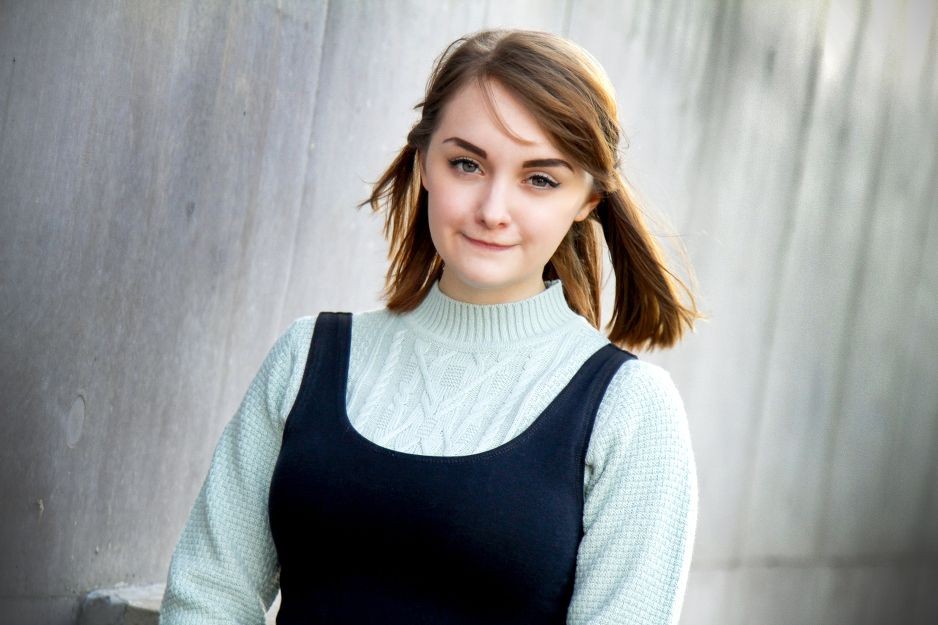 Laura Potts is twenty-two years old and lives in West Yorkshire. Twice-recipient of the Foyle Young Poets Award, her work has been published by Acumen, Aesthetica and The Poetry Business. Having worked at The Dylan Thomas Birthplace in Swansea, Laura was nominated for The Pushcart Prize and became one of the BBC's New Voices last year. Her first BBC radio drama aired at Christmas. She received The Mother's Milk Writing Prize and a commendation from The Poetry Society in 2018.
1. How, when and why did you first start writing poetry?
The exact age is unremembered, but I was very young. I've always been a reader and the one fed easily into the other for me, even in infancy: reading led to writing led to reading again. And that cycle still exists today. But there was never a definitive moment when I took to my desk and decided to write, or to 'be' a writer. It just grew, quite naturally, with my years. I suppose, looking back, my grandmother was there at the heart of it all. Before war took her health and age took her mind, she had been an amateur writer herself. And she would read. For hours and days and weeks she would read, and I'd sit on her knee in the old armchair. That great gravelly voice, broken by years of work and war, spoke on in my infant ear. Once and forever. Always. If I listen today, it's still there.
2. What made you decide to enter the Mother's Milk Books Writing Prize?
As I recall, my mind was on motherhood. I'd lived with the thoughts for some time and the poem was the great end of that passion. Mother's Milk appealed to me for the humility of its roots as a small press, and for the strides it has taken to uphold the place of childbirth, pregnancy and motherhood in literature today. After all, these are themes which are too often made marginal. Entering the Prize was my own small way of walking away from that; and of tipping my hat to the work of this press.
3. How did it feel when you'd heard that you'd won?
Like most unexpected successes, it brought a quiet moment of joy. And since most of my work is kept for my eyes alone, it's always reassuring when someone else feels its worth. It entered the world to be read and enjoyed and someone, somewhere, saw that. But most importantly of all, it brought a source of comfort; an assurance that my voice didn't just speak to the page and back. It could reach much further than my own four walls and lay its claim to living. So, yes. The news took the wet out of Wednesday for sure.
4. Can you tell us a little about your winning poem?
It was quite an amorphic little verse, by which I mean unlike the rest of my work. If I remember rightly, it was born in an hour of free-writing. Its sustained image is simple: a mother rocks her son to sleep by candlelight and dreams of the wide future to come. The structure is scattered; the rhyme irregular; the metre unstable. Despite the soft and gentle words, an anxiousness exists. And in the final line we find its source: the boy in her arms will one day be the soldier on his knees.
5. What are your writing plans for 2019?
Who knows? Writing has never had a timeline or followed a predictable pattern for me. It comes and goes, some months more than others. Allowing it to live as it wishes, however it wishes, ensures it remains a joy. But the next logical step, I suppose, is a first collection for which the time must be right and I must be ready. I'm also in the infant stages of a poetic drama for BBC Radio 4. And while all these things flicker into being, eventually living, I read. That in itself is enough.
6. Any tips for those writing poetry?
Always have an accessible medium. Notebook, diary, tablet, phone. The back of your hand will do. Just make sure your mind never meets a barricade. Even when you're on the bus or half-asleep in the bath.
The best writers are the best readers. I can't stress this enough: the importance of books, of the farther arts, of the whole wide world which spins outside the little room you write in. The mind is a keen machine, and you'll get out what you put in. So when you read, read critically. Why do you like this writer? Why don't you like that one? You'll converge with one and not with the other. Finding your voice means gauging your place, just like this, in the epic annals of literature.
Read your work aloud. At its ancient roots, poetry was an oral art often set to music. By reading aloud you'll honour its history and notice its flaws. A poem has a different life on the page to its life in the mouth. And it's easy to know when a writer does not read aloud: their rhythm could always be better.
Be kind to yourself. Writer's block is an anxious friend but one we must endure. Take your time. If you're struggling, leave it alone. Take a walk. Take a nap. Take a month off and sleep. The work needs time and patience to live. And, after all, sometimes the mind works best at rest.
The only regrets you'll have are for the times you didn't try. So why not pick up a book today? Go on and begin.
You can read Laura's beautiful winning poem, 'First Light' here. And if you feel inspired to take part in this year's Poetry Prize (and I'd really love it if you would!) please read the full guidelines here.